OEM & Customize
Iwako Puzzle Eraser can be applied to the various scenes for your companies and shops.
To produce the completely original design of eraser from the mold is "OEM" and to use the standard design of Iwako eraser and add the modification is "Customize".
※For overseas customers, please contact Iwako Global Co., Ltd.
What You can DO with Iwako
Change of color
Iwako can produce the various designs of eraser.
You can customize the eraser by changing the color of a part or entire eraser to the same color as your corporate color.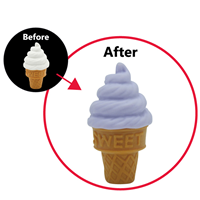 Customization of sticker
It is perfect to promote your product and brand.
By applying the sticker on the eraser, a small figurine performs as a good advertisement!
There are 2 ways to apply the sticker; 1) to wrap the eraser completely and 2) to apply the sticker on the flat face.
Customization of Insert Card
"Insert Card" which is to produce the original design of paper card to insert in the clear OP bag is easy and recommended for the small lot project and is popular for the giveaway for the events.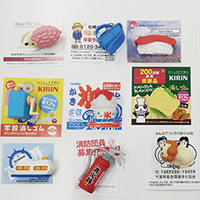 Customization of package
"Customized package" which is to produce the original design of OP bag brings the quality to sell as the finished product.
With the standard design of Iwako eraser, it is necessary to print Iwako logo on the package besides your logo.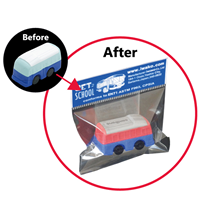 OEM
Iwako is here to produce your ONLY ONE original eraser in the world!
We are confident that you will be satisfied with "Made in Japan" quality and the rich experience of Iwako.
The accuracy and delicate arrangement which Iwako can manage through this experience is essential for the production especially if you need to produce a big volume.
| | |
| --- | --- |
| MOQ | Not specific, but not recommended for the small lot project. |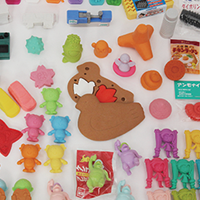 Example
FAQ